It's been said that we are living in the time of the remix. Take the Top Grossing Movies of 2016 – 14 out of the top 20 movies were either remakes, adaptions or sequels.
And this tendency to remix is nothing new. Even Shakespeare was known to copy speeches, themes and entire plot points from other writers in his plays. Which brings to mind M.C. Escher quote, originality is merely an illusion.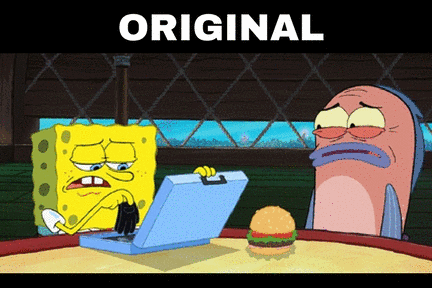 What we're seeing today is the movement of audiences from a read-only culture to a read-write culture. This is largely thanks to technology, in particular the internet, which has allowed audiences to step directly into the production process and contribute in ways that were once only possible to a select few.
This has resulted a wealth of audience created content of varying quality.  My own Spongebob inspired gif, is just one of many examples of this growing culture. Although some a lot of the content generated online is a little terrifying 'interesting', I still think it's awesome that we, the audience, have the power to access what we want, when we want it and if we can't find it, create content ourselves.
I'll leave you with this gem by TrapMusicHDTV